Collectivités territoriales et organisation des clubs sportifs amateurs : le cas du regroupement des clubs d'athlétisme de la métropole de Lyon
This article presents the problem-atic relationship between local authorities and amateur sports clubs, in particular the influence of the former on the Organizations of the latter. Our research shows that the local authority sometimes exerts undue hard-ship on these clubs, for example in their will of regrouping , and that this interference extends from granting to infrastructure development, through various aids provided for in decentral-ization laws. An examination of the situation of the athletics clubs of the metropolis of Lyon attests that, under the evolution of the political-socio-economic environment, the amateur sports club has lost its organizational autonomy and is now threatened with survival.
Este artículo presenta la pro-blemática relación colectivida-des-clubes deportivos aficiona-dos, en particular la influencia de las primeras en la organiza-ción de los segundos. Nuestra investigación muestra que la colectividad territorial ejerce a veces una presión excesiva sobre estos clubes, por ejemplo en su voluntad relativa a su reagru-pación, y que esta interferencia se extiende desde la concesión de subvenciones para la adaptación de infraestructuras, a través de diversas ayudas derivadas de las leyes de descentralización. El examen de la situación de los clu-bes de atletismo de la metrópolis de Lyon atestigua que, bajo la evolución del entorno político-so-cioeconómico, el club deportivo aficionado ha perdido su auto-nomía organizativa y ahora está amenazado de supervivencia
Cet article présente la relation problématique collectivités-clubs sportifs amateurs, notamment l'influence des premières sur l'organisation des seconds. Notre recherche montre que la collectivité territoriale exerce parfois une contrainte excessive vis-à-vis de ces clubs, par exemple dans leur volonté de regroupement, et que cette interférence s'étend de l'octroi de subventions à l'aménagement d'infrastructures, en passant par diverses aides découlant des lois de décentralisation. L'examen de la situation des clubs d'athlétisme de la métropole de Lyon atteste ainsi que, sous l'évolution de l'environnement politico-socio-économique, le club sportif amateur a perdu son autonomie organisationnelle et est maintenant menacé de survie.
Fichier principal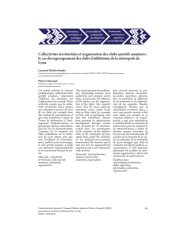 document.pdf (257.78 Ko)
Télécharger le fichier
Origin : Publication funded by an institution
Licence : CC BY NC ND - Attribution - NonCommercial - NoDerivatives