Garin Le Loherain IN version (Dijon 528 and Arsenal 3143) of the conlusion of Garin le Loherain : critical edition, literary and linguistic commentary, study of the manuscript tradition.
Garin le Loherain édition critique, commentaire linguistique et littéraire, étude de la tradition manuscrite de la conclusion de la vesion IN (Dijon 528 et Arsenal 3143)
The matter in question is the critical edition of two manuscripts (I =Dijon BM 528/N = Arsenal 3143) which offers an adapted version of the end of Garin le Loherain, a version which differs from what is called the « Vulgate » produced by twenty manuscripts or so. The former editions tended to neglect the IN version. This new one takes particular attention to the two manuscripts which contain the isolated version of an anonymous poem which could find its origin in the XII th or the XIII th century. Beyond the obvious literary interest of such a variation, we pay particular attention to the dialectal identity of the two witnesses (probably natives from the north-east of France), and the way they influenced the manuscript tradition of la Geste des Loherains. The two IN witnesses are obviously derived from the same version, a very concise adaptation of the Vulgate.Whenever a parallel study of the two witnesses and the Vulgate is possible, multiple alterations are to be noticed, each document presenting its own interpretation.
Il s'agit de l'édition critique de deux manuscrits (I = Dijon BM 528 / N =Arsenal 3143) proposant une version remaniée de la fin de Garin le Loherain, version différente de ce qu'on appelle la Vulgate, donnée par une vingtaine de manuscrits. Les éditions antérieures ont négligé la version IN. La présente édition s'attache aux deux manuscrits qui contiennent cette version isolée du poème anonyme dont la rédaction semble se situer aux XIIe–XIIIe siècles. Outre l'intérêt littéraire évident d'une telle variation, on s'attache à préciser l'identité dialectale de chacun des deux témoins (Nord Est, de manière plus ou moins marquée) et à déterminer la place de ceux-ci dans la tradition manuscrite de la Geste des Loherains. Il est clair que les deux témoins IN dérivent d'une même version, très écourtée par rapport à la Vulgate, chacun des deux présentant probablement de multiples remaniements plus ou moins isolés l'un par rapport à l'autre et par rapport au texte de la Vulgate, lorsqu'on peut établir le parallèle.
Fichier principal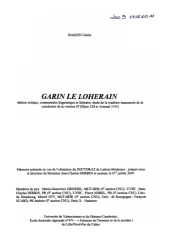 2009VALE0011_DAQUIN_CECILE.pdf (22.06 Mo)
Télécharger le fichier
Origin : Files produced by the author(s)