Filming a play : how can an audiovisual document be true to a live show?
Filmer le théâtre : problématique de la fidélité d'un document audiovisuel élaboré à partir d'un spectacle vivant
With the present multiplication and democratization of technology comes a heightened demand for content and programs, such as filming a live show in a convincing and faithful way has become a major issue in recreative theatrical memory. Yet, today, this need is met with unsatisfactory answers for various reasons. One stumbling block, among others, is the difficulty of transposing the environment of a particular media to another. This can only be resolved by quest into new forms of contextualised film writings. These elements must imperatively take into consideration the particularities of the biological co-presence of two groups of humans. Contrary to current solutions (capture or re-creation), we propose here a novel alternative to documentary multicaptation based on a framework of multiple and various public recordings that allows the assembling of the best moments of every day into a virtual super-performance.
À l'heure où la multiplication et la démocratisation des technologies ne font qu'accroître la demande de contenus et de programmes, filmer le spectacle vivant de manière convaincante et fidèle devient un enjeu majeur d'une mémoire théâtrale re-créatrice. Pourtant, ce besoin ne rencontre encore aujourd'hui que des réponses généralement peu satisfaisantes à divers titres. Il se heurte à des difficultés de transposition d'un environnement médiatique à un autre, qui ne peuvent être résolues qu'à travers la recherche de nouvelles écritures filmiques contextualisées. Celles-ci doivent impérativement tenir compte de la spécificité théâtrale comme co-présence biologique de deux groupes d'humains. À rebours des solutions courantes (captation ou re-création) est proposée ici une solution originale de multicaptation documentaire, fondée sur un dispositif d'enregistrements multiples et différenciés en conditions réelles de représentation publique, et permettant d'élaborer une super-représentation virtuelle associant les meilleurs moments de jeu de chaque soirée.
Fichier principal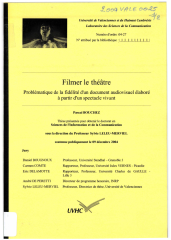 2004VALE0025_BOUCHEZ_PASCAL.pdf (40.79 Mo)
Télécharger le fichier
Origin : Files produced by the author(s)