#Coronamaisons : confinement sur les réseaux sociaux
March 2020. France is on lockdown. The outside world seems to stop ; time is slowing down considerably. We must stay at home ; save the world from our couch. Phony War. The upheaval in our daily lives causes worry, anguish and even paranoia. At the same time, we are observing a real burst of creativity. Thousands of windows open onto the world while we are deprived of the outdoors. More than ever, Art is becoming an escape. In the same time, we realize that we are not all equal in the face of this sudden lockdown. It is almost with surprise that some of us find ourselves confronted with these inequalities. For others, it's even stronger than before. Focusing on the #Coronamaison participatory project initiated by Pénélope Bagieu on Twitter, this article questions the function of art, revealing inequalities when confronted with the imagination and the thirst for freedom but also the "world after" aspirations emerging from the particular context of confinement.
Mars 2020. La France se confine. Le monde extérieur semble s'arrêter ; le temps ralentir considérablement. Nous devons rester chez nous ; sauver le monde depuis notre canapé. Drôle de guerre. Le bouleversement de notre quotidien provoque l'inquiétude, l'angoisse, voire la paranoïa. Parallèlement, nous assistons à un véritable élan de créativité. Des milliers de fenêtres s'ouvrent sur le monde, alors que nous sommes privés d'extérieur. L'art prend plus que jamais des allures d'échappatoire. D'autant plus que nous prenons conscience de ne pas être tous égaux face à cet enfermement soudain. C'est presque avec étonnement que certains d'entre nous découvrent qu'eux-mêmes sont confrontés à ces inégalités. Pour d'autres, elles deviennent plus fortes encore. S'intéressant au projet participatif #Coronamaison, lancé notamment par Pénélope Bagieu sur Twitter, cet article interroge la fonction de l'art, révélatrice des inégalités, lorsqu'elles sont confrontées à l'imaginaire, à la soif de liberté de chacun, mais aussi aux aspirations à un « monde d'après », émergeant du contexte particulier du confinement.
Fichier principal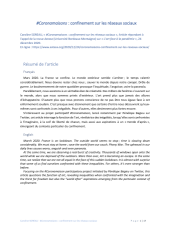 Caroline-Soreau-coronamaisons-confinement-sur-les-reseaux-sociaux.pdf (376.56 Ko)
Télécharger le fichier
Origin : Files produced by the author(s)