Performance industrielle : une évolution intégrant l'éthique dans le contexte de l'Industrie 4.0
This paper deals with industrial performance and the enrichment of its triangle (efficiency, effectiveness, relevance) with a view to integrating the ethical dimension. The contribution of ethics to performance is discussed in the current context of Industry 4.0 which, due to the digitisation of production activities, the development of Autonomous or even Intelligent Systems and the profusion of data that characterise it, offers situations in which the traditional performance model finds its limits in terms of guaranteeing the durability of systems. These limits can be related both to the assigned objectives and to the way in which the means are used to achieve them. After a reminder of the specificities of Industry 4.0, an analysis of the evolution of the performance notion and its deployment tools, from the Taylorian period to today, is presented. The triangle (efficiency, effectiveness, relevance) is gradually introduced and its limits are shown. A proposal integrating, in a tetrahedron, the ethics to this triangle is described. Such a proposition is illustrated regarding the consequences of the implementation of a MES (Manufacturing Execution System) for an aeronautical supplier, in terms of product traceability and operator autonomy. Discussion and prospects to the proposal conclude this study.
Cet article traite de la performance industrielle et de l'enrichissement de son triangle (efficience, efficacité, effectivité) en vue d'y intégrer la dimension éthique. L'apport de l'éthique à la performance est discuté dans le contexte actuel de l'Industrie 4.0 qui, de par la numérisation des activités de production, le développement de Systèmes Autonomes voire Intelligents et la profusion de données qui la caractérisent, offre bon nombre de situations dans lesquelles le modèle de performance traditionnel trouve ses limites pour la garantie de la pérennité des systèmes. Ces limites peuvent être liées aussi bien aux objectifs assignés qu'aux moyens utilisés pour les atteindre. Après un rappel des spécificités de l'Industrie 4.0, une analyse de l'évolution de la notion de performance et de ses outils de déploiement, depuis la période taylorienne jusqu'à aujourd'hui, est présentée. Le triangle (efficience, efficacité, effectivité) y est progressivement introduit et ses limites sont montrées. Une proposition intégrant, dans un tétraèdre, l'éthique à ce triangle est décrite et illustrée sur les conséquences de la mise en place d'un MES (Manufacturing Execution System) chez un équipementier aéronautique, en termes de traçabilité des produits et d'autonomie des opérateurs. Une discussion et des perspectives à la proposition concluent cette étude.
Fichier principal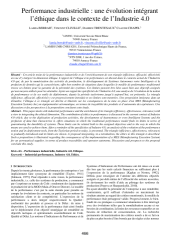 article_CIGI2021_proc.pdf (334.98 Ko)
Télécharger le fichier
Origin : Files produced by the author(s)