Variations in Patterns of Muscle Activity Observed in Participants Walking in Everyday Environments: Effect of Different Surfaces
Purpose: The purpose of this study was to examine variations in lower limb surface electromyography (EMG) activity when individuals walked on different outdoor surfaces and to characterize the different potential motor strategies. Method: Forty healthy adult participants walked at a self-selected speed over asphalt, grass, and pavement. They then walked on an indoor treadmill at the same gait speed as observed for each outdoor condition. The EMG activity of the vastus lateralis (VL), tibialis anterior (TA), biceps femoris (BF), and gastrocnemius lateralis (GL) muscles was recorded, and the duration and intensity (root mean square) of EMG burst activity was calculated. Results: Walking on grass resulted in a longer TA burst duration than walking on other outdoor surfaces. Walking on pavement was associated with increased intensity of TA and VL activation compared with the indoor treadmill condition. The variability of EMG intensity for all muscle groups tested (TA, GL, BF, VL) was greatest on grass and lowest on asphalt. Conclusions: The muscle activity patterns of healthy adult participants vary in response to the different qualities of outdoor walking surfaces. Ongoing development of ambulatory EMG methods will be required to support gait retraining programmes that are tailored to the environment.
Objectif : examiner les variations à l'activité électromyographique (EMG) de surface des membres inférieurs lorsqu'une personne marche sur diverses surfaces extérieures et caractériser les diverses stratégies motrices potentielles. Méthodologie : au total, 40 participants adultes en santé ont marché à la vitesse de leur choix sur de l'asphalte, du gazon et du pavé. Ils ont ensuite marché sur un tapis roulant intérieur à la même vitesse que sur chaque surface extérieure. Les chercheurs ont enregistré l'activité EMG des muscles vaste latéral (VL), tibial antérieur (TA), biceps fémoral (BF) et gastrocnémien latéral (GL) et ont calculé la durée et l'intensité (moyenne quadratique) de la salve d'activité EMG. Résultats : la marche sur le gazon provoquait une salve d'activité du muscle TA plus longue que la marche sur les autres surfaces extérieures. La marche sur le pavé était liée à une augmentation de l'intensité d'activation des muscles TA et VL par rapport à celle sur le tapis roulant intérieur. La variabilité de l'intensité EMG de tous les muscles testés (TA, GL, BF, VL) était plus élevée sur le gazon et plus faible sur l'asphalte. Conclusion : les tracés d'activité musculaire de sujets adultes en santé varient selon diverses qualités des surfaces de marche extérieures. Les méthodes EMG ambulatoires devront évoluer de manière à soutenir les programmes de rééducation de la démarche adaptés à l'environnement.
Fichier principal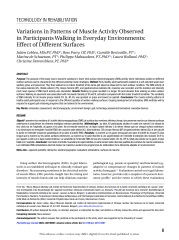 Lebleu et al. 2020.pdf (721.28 Ko)
Télécharger le fichier
Origin : Files produced by the author(s)