Europe in Scotland's Constitutional Debates
Europa en el debate constitucional escosès
L'Europe dans le débat constitutionnel écossais
Since the pro-independence SNP gained its first seats in the House of Commons in the late 1960s, there have been constitutional debates in Scotland, first over devolution then over independence. Scotland's relationship with the EEC/EU was always part of these discussions. These matters were supposedly settled with the creation of the Scottish Parliament in 1999 and its subsequent additional powers granted in 2016, as well as the 2014 referendum on independence. Yet the outcome of the 2016 referendum on Brexit has generated further debates about the best way to protect Scotland's place in Europe, through a strengthened devolution settlement or through independence.
Desde la entrada a la Cámara de los Comunes des Scottish National Party, independentista, a final de los años 1960. Escocia vio surgir debates constitutionales, en primer lugar sobre la creación de instituciones descentralizadas (devolución), despuès en relación a la accesión a la independencia. La naturaleza de las relaciones de Escocia con la CEE/UE siempre fue parte de estas discusiones. Se suponia qua estas cuestiones habian sido resueltas con el establecimiento de un Parlamento escocès en 1999 y la transferencia de competences adicionales en 2016 asi como con el referéndum de autodeterminación de 2014. Sin embargo, el resultado del referéndum de 2016 sobre el Brexit ha generado nuevos debates sobre la mejor forma de proteger el lugar de Escocia en Europa, en el marco de una devolución reforzada o de la independecia.
Depuis l'entrée à la Chambre des communes du Scottish National Party, indépendantiste, à la fin des années 1960, l'Écosse connaît des débats constitutionnels, d'abord au sujet de la création d'institutions décentralisées (dévolution), puis à propos de l'accession à l'indépendance. La nature des relations entre l'Écosse et la CEE/UE a toujours fait partie de ces discussions. Ces questions étaient censées avoir été réglées avec la mise en place d'un Parlement écossais en 1999 et le transfert de compétences supplémentaires en 2016, ainsi qu'avec le référendum d'autodétermination de 2014. Mais le résultat du référendum de 2016 sur le Brexit a engendré de nouveaux débats sur la meilleure façon de protéger la place de l'Écosse en Europe, dans le cadre d'une dévolution renforcée ou de l'indépendance.
Fichier principal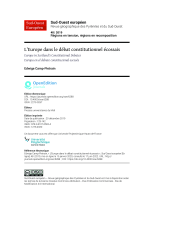 soe-6288.pdf (1.11 Mo)
Télécharger le fichier
Origin : Publication funded by an institution
Licence : CC BY NC ND - Attribution - NonCommercial - NoDerivatives